This post may contain affiliate links. Please see our Affiliate Disclosure for more information.
With Saint Patrick's Day approaching now is the perfect time to do some crafts with the kids. Especially with all this cold weather it'll definitely give your kids something to do.
Unfortunately, Ray isn't that into crafts. He will do them at school because he loves to see my reaction when he shows them to me but I can't for the life of me get him to actually craft or color with me at home. Occasionally, I can get him to paint with me and my mom for a little bit lol.
Shamrock Template
There are so many possibilities with this template. You can cut out, color it, paint it, glue tissue paper to it. The ideas are great. – OhMy!Creative
Beaded Shamrocks
Your kids will love making these super cute shamrocks. – Fun-A-Day
Rainbow Shaker Wand
This awesome wand can open so many doors for imagination this St. Patrick's Day! – Happy Mothering
Shamrock Man
What a cute way to get creative with shamrocks! – The Resourceful Mama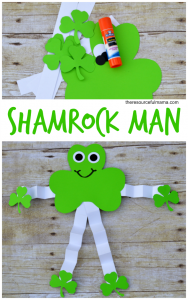 Leprechaun Looks
Perfect for spotting those sneaky little fellas. – Love Your Littles
Shamrock Keepsake
I personally love looking back at these adorable keep sakes that my son makes. – Simple Everyday Mom
Leprechaun Hat Craft
What a cute little craft with Popsicle sticks! – The Resourceful Mama
Button Art
This would be a lot of fun to do with an older child. – Fleece Fun
Pot-O-Gold Slime
What kind of a kid craft list would this be without slime? lol. – Momdot
3D Rainbow Colored Shamrock
Now this would be super fun to make! – Twitchetts
Related Posts
75+ St. Patrick's Day Crafts For Kids – Non-Toy Gifts
12 Valentine's Day Crafts To Do With The Kids – Young Busy Mom