This post may contain affiliate links. Please see our Affiliate Disclosure for more information.
Father's Day is fast approaching and for some reason I feel that buying Dad the perfect gift is super difficult. Men are hard to shop for in general but to find something to show your Dad or your significant other just how appreciated they are is even harder. I have compiled a list of ideas to get your Dad, Pap, or significant other this year for Father's Day.
Man Crates
So Man Crates are all the rage right now and I can totally see why. There are TONS of different Crates that you can get for Dad. Personally, I like this Grill Master Crate and it's only $24.99!
By Man Crates
NFL Sports Love Wood Wall Plaque
I don't know about your family but with us being located in Central Pennsylvania my family bleeds black and yellow. My dad would totally love a Steelers sign to add to his memorabilia. Not only is it a reasonable price of $39.99 but you can also Customize it for your family!
By Gifts.com
Gone Fishing Metal Signs
Seriously, if my Dad could retire now and spend his days on the Lake he totally would. Generally, in the summer if he isn't home, he's out fishing. This is absolutely the perfect sign for the "man cave" or garage.
By Gifts.com
Fishing Pail
Okay, so I have a little bit of a theme going here but I'm seriously considering buying my dad this Fishing Pail. I think it's cute, functional, and I can totally see my dad using one!
By Gifts.com
Barley Wooden Beer Holder
Not only is this functional but it's also stylish! Perfect for the dad who likes to take a few brews with him to a picnic, camp fire, or other social outings. He won't even need that silly bottle cap, remover – thing that he keeps on his key chain! All his bud's will be loving it.
By Gifts.com
Hooked On You Keychain
Again with the fishing theme, I know. I can't help it. Growing up that is the biggest memory I have with my dad. This may seem totally cheesy but this Hooked On You Keychain is totally cute and I bet Dad would love this.

By Gifts.com
Flipping Awesome Grilling Tray
This grilling tray is perfect for the man who loves to grill – I mean, isn't that what summer is all about? Dad will definitely enjoy this Flipping Awesome Grilling Tray while he's chillin', grillin', and enjoying a cold adult beverage.
By Gifts.com
Chillin' & Grillin' Wood Tool Rack
Okay, I want this gift for my own porch. Dad would totally love this for the porch while he's grilling. Making it super easy to find all his grilling tools. This is also on the top of my list for a gift for my dad this year.
by Gifts.com
Armor Car Care Gift Bucket
For the dad who is totally obsessed with a nice, clean vehicle this is perfect. Got all the best items stored in this pretty nifty bucket for perfect storage. (I might just buy this for myself lol)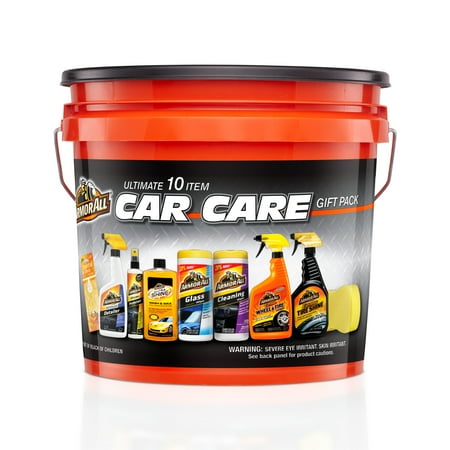 From WalMart
Echo Dot
If your dad is tech-savvy this would be a really nifty idea. Hands free and voice-controlled — I can only imagine the things my dad would ask Alexa! Haha. Echo Dot 2nd Generation for $39.99
Fitbit Charge 2
Fitness has been really big lately and for good reason. We want our dad's to be around for as long as possible and maybe he has been on his own fitness journey. This would be a perfect gift for him and hey, if you have your own Fitbit the two of you could turn it into a competition! Fitbit Charge 2 for $148.95
Beard Grooming Kit
For the dad who rocks the beard. Having good beard hygiene is important so why not get him a good beard grooming kit? Beard Grooming Kit for $19.99
Beard Bib
Sticking with the beard theme. Why not get him a beard bib? It'll be a gift for him and mom because she won't have to clean up those messy beard clippings in the sink. lol. It's actually rather cheap as well. Beard King – Beard Bib – $24.99
Related Posts:
Father's Day Crafts by Lovebugs & Postcards
21 Cool DIY Father's Day Gift Ideas by DIY Projects