This post may contain affiliate links. Please see our Affiliate Disclosure for more information.
Christmas is my favorite time of the year. I love the decorations, the smells, and the holiday cheer. My gram's house was always extremely decorated and I think that's why I love going all out with my Christmas decorations.
I love inexpensive and creative ways to make my own Christmas decorations so I have compiled a list of some of the cutest and easiest ones.
LIGHTED BURLAP GARLAND FOR CHRISTMAS
This lighted burlap garland is great for the rustic theme you've got going on. This is super easy and inexpensive – plus its adorable.
From Create Craft Love
PALLET CHRISTMAS TREE
I absolutely love this idea and I think I might try it this year. Pallets aren't extremely hard to get a hold of and this is incredibly simple. Plus it would look totally awesome on the front porch!
From Jolene's Crafting
DIY PLAID HOLIDAY PILLOWS
These pillows are trendy, easy, and inexpensive. They would make a nice touch to your couch this holiday season.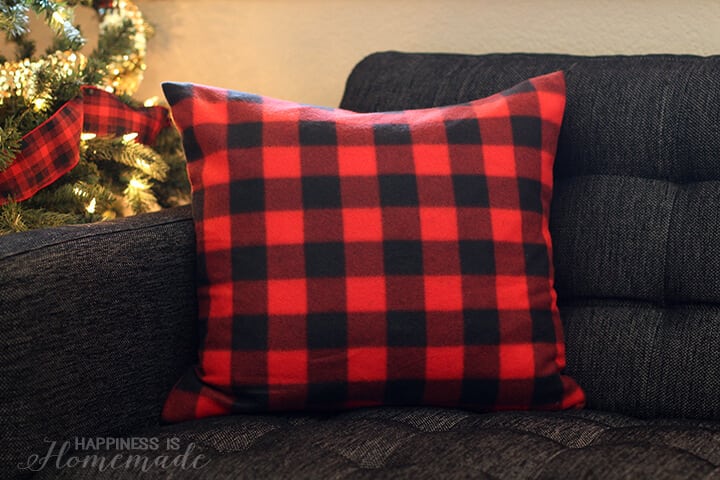 FISH BOWL SNOWMAN
This fish bowl snowman is absolutely adorable. It doesn't take much to make this cute decoration. Just need some dollar tree fish bowls and a few little other things.
From Smart School House
'JOY' HOLIDAY WALL LETTERS
I wish I had a wall to do this on because I love this so much. This is perfect for a wall that you don't usually do anything with.
From Rosyscription
CHRISTMAS COUNTDOWN CHALKBOARD PLATE
I have been dying to do this. It's technically too early to be getting Christmas decorations around but I can't help it. I've been checking the dollar tree hoping to find the holiday plates out so I can make this.
From Pink When
BRIGHT SPARKLY REINDEER
I love all things glitter. I especially love this glittery reindeer. I'm always looking for new ways to make my house sparkle with Christmas cheer.
From Freshwater Studio
CHRISTMAS ORNAMENT GARLAND
This is such an adorable and simple Christmas decoration. I love the look of this (I also love all things pink). Check out the youtube tutorial on how to make it.
\
From Bethany Mota's Youtube Channel
CHRISTMAS WOOD ARROWS
Look at these awesome Christmas wood arrows! I HAVE to make these! These would be a perfect touch to your front porch or yard.
From The Happy Scraps
WOODEN REINDEER
LOOK HOW ADORABLE THIS WOODEN REINDEER IS. I'm dying. I am absolutely making one – well I won't be but my boyfriend will. Check out this youtube tutorial on how to make this extremely charming reindeer.
From Swallow Forge Youtube Channel
I hope this inspired you this Christmas season. I know these awesome ideas inspired me and now I want to get started!
RELATED POSTS
30 Dollar Store Christmas Decor Ideas by Cool DIY Ideas
20 Creative DIY Mason Jar Christmas Decorations by A Cultivated Nest
31 Impressive Ways To Use Your Christmas Lights by DIY Joy