This post may contain affiliate links. Please see our Affiliate Disclosure for more information.
Shower melts. Have you ever heard of such a thing? I was scrolling through Pinterest this morning and I keep seeing ideas for shower melts. These things look heavenly and I decided I needed to compile a list of these amazing ideas!
I absolutely love the idea of bath bombs! They smell amazing and look adorable; however, I'm not much a bath person. I just never have the time to sit in the tub and just relax. These shower melts look like the equivalent of a bath bomb but for the shower! I'm in love with this idea and I definitely plan on making some because I know I will for sure use these. Plus there are some great recipes for cold season (which is fast approaching unfortunately).
Wake Up Shower Melts
I know I definitely need to make me some of these. Mornings are so hard but these would make waking up so much easier!
Homemade Vapor Shower Cubes
These shower melts would be perfect for cold & allergy season. Throw one in the shower and step into relief!
Peppermint Sower Bomb
This blog post is perfect if you're new to making shower melts (like me). It walks you step by step through the process. It also gives you a terrific peppermint melts – totes perfect for waking up on those especially tough mornings.
Uplifting Grapefruit Essential Oil Shower Melts
Mmmm. I can smell it now. This would be a wonderful way to start off your morning waking up to this smell and look how colorful they are!
Citrus Shower Bombs
This mom out in Arizona definitely has the right idea in the winter months even if it doesn't get as cold there as it does here in Happy Valley, PA. Her recipe for these Citrus Shower Melts sound like they would definitely help get you moving in the dreary months ahead.
Eucalyptus Shower Melts
Here is another cold relief shower melt using eucalyptus, peppermint, and lavendar! And just look how cute they are! I'm really loving everyone's creativity with these.
Energizing Shower Steamers
This recipe not only gives you awesome instructions but it also includes a few other oil blend ideas!
Homemade Vapor Shower Melts
This recipe doesn't use any essential oils – only vick's vapor rub. This would be perfect to keep on hand in the winter months. I'll definitely be trying this recipe this winter. I love the smell of vick's – weird, I know. lol.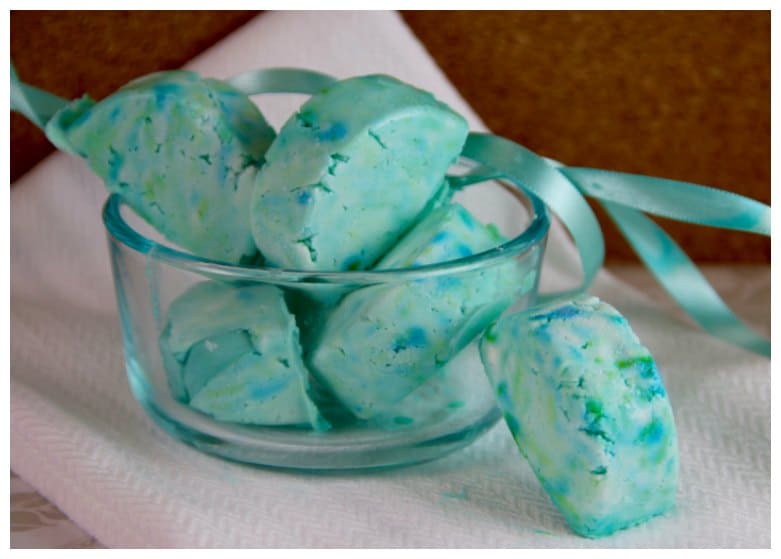 Related Posts: