This post may contain affiliate links. Please see our Affiliate Disclosure for more information.
Okay, I'm well aware that it's only July but Christmas is ALWAYS on my mind. It's my favorite time of the year. My house turns into Christmas wonderland and each year it gets bigger and bigger. I get that from my grandmother. Her house was always decorated from top to bottom with multiple trees and each room seemed to have their own theme. Going to her house around Christmas was always my favorite. It's one of the many things that I miss about her.
I keep seeing these absolutely adorable mason jar Christmas themed ideas and it inspired me to put this list together. I will definitely be making my own mason jar decorations this year. It's inexpensive and home-y. Now to pick which one to do…. lol.
Snowflake Mason Jars
I like this idea because it's not the normal color scheme I see with Christmas mason jars. It's something different and cutesy. The kids could even help with this!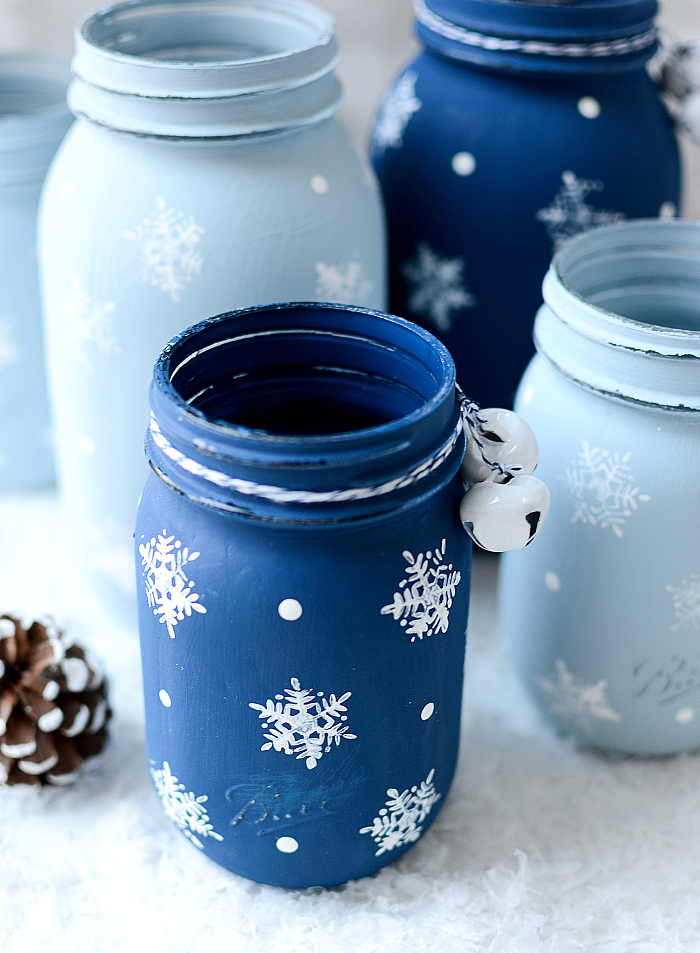 From It All Started With Paint
Winter Luminaries
These pine cone luminaries are super simple to make and are absolutely adorable. If you have a pine tree or two in your yard (I have four unfortunately) why not use those annoying pine cones for cool projects?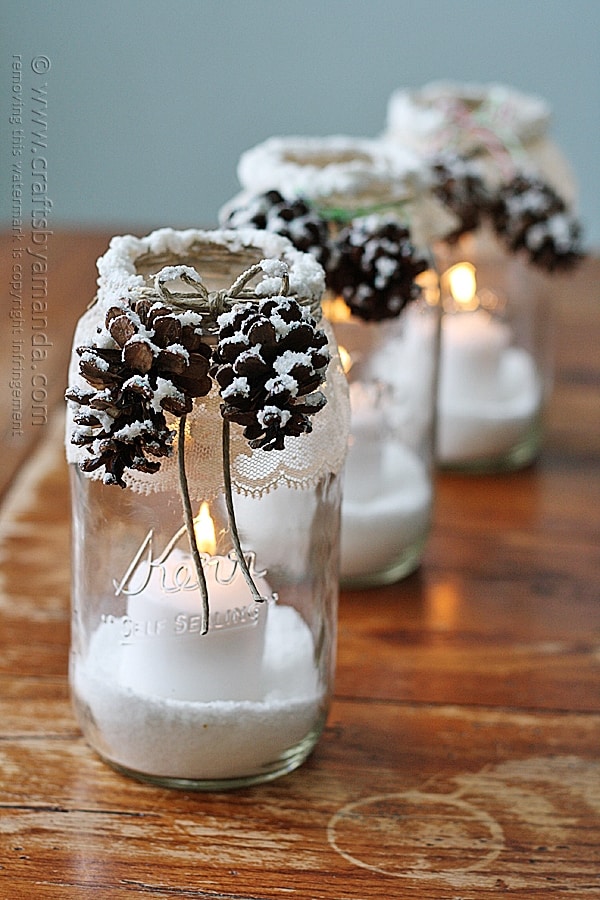 From Crafts by Amanda
White Christmas Table Center Piece
Do you have a Christmas dinner party coming up? Are you trying to figure out what kind of a center piece to have for said dinner party? Look no further! This inexpensive and creative center piece will look absolutely stunning on your table.
From Stampin' Dolce
Christmas Tree Mason Jar Votive
Here is another creative and simple way to use those mason jars that are just sitting around in your basement. Not to mention, this is one where you can get your child(ren) involved! I'm sure they would love to help you out – what child doesn't love to "help"? lol.

From Mason Jar Crafts
"Joy" Mason Jar Tablescape
This color scheme is definitely right up my alley. I may try to recreate something very similar to this idea this year for my own home. I really love this.
From Craft Warehouse
DIY Mason Jar Holiday Luminaria
I really like this look as well. It's simple yet still festive. There's also not a lot of stuff that you need to do to achieve this look which would be perfect for me because frankly, I'm not as creative as I wish I were.
From The Budget Decorator
Mason Jar Snow Globes
I cannot get over how ADORABLE these seriously are. I will definitely be making at least one of these this year. My son would absolutely love it. The little blue truck one makes me think of "Little Blue Trucks Christmas" which is one of my Ray's favorite books.
From Mason Jar Crafts
DIY Snowy Mason Jars
These effortless faux snow covered jars are just darling. The best part is that they are easy to make and inexpensive as well!
Related Posts:
12 Magnificent Mason Jar Christmas Decorations You Can Make Yourself
14 Creative Ways To Decorate With Mason Jars For The Holidays