This post may contain affiliate links. Please see our Affiliate Disclosure for more information.
With Halloween fast approaching I decided to do a post about some super easy and adorable Halloween party snacks that the kids will absolutely love. I remember loving our family Halloween costume party we had when I was growing up. Bobbing for apples, wrapping the mummy, treasure hunts, and more – to be a kid again. I wish we still had those parties even though I'm 23 and the youngest of 10 cousins.
Hopefully you all have a blast and try some of these yummy recipes. I know I had a blast making this list and it gave me lots of ideas for my next Halloween party.
PUMPKIN CHEESECAKE BALLS
What a perfect combination pumpkin and cheesecake. Yum. These are super cute and look super easy. Totally perfect for a Halloween party! I know they would be a hit with my family.
From Cakes Cottage
HALLOWEEN SPIDER COOKIES
Oh my lanta are these cute or what? These simple peanut butter cookies with a reese cup mini pressed in the middle would be perfect for any Halloween party. Child or adult!
From Cincy Shopper
MONSTER EYE BALLS RICE KRISPIE BITES
These monster eye balls are so spooky and fun! I can honestly say I have never seen these before. I really love this idea because they're fun and kid friendly. I know my son would love these for sure.
From Two Sisters Crafting
EASY MUMMY BROWNIES
There is nothing better than something simple and quick. These mummy brownies are both and they're incredibly cute! I'm gonna have to try this.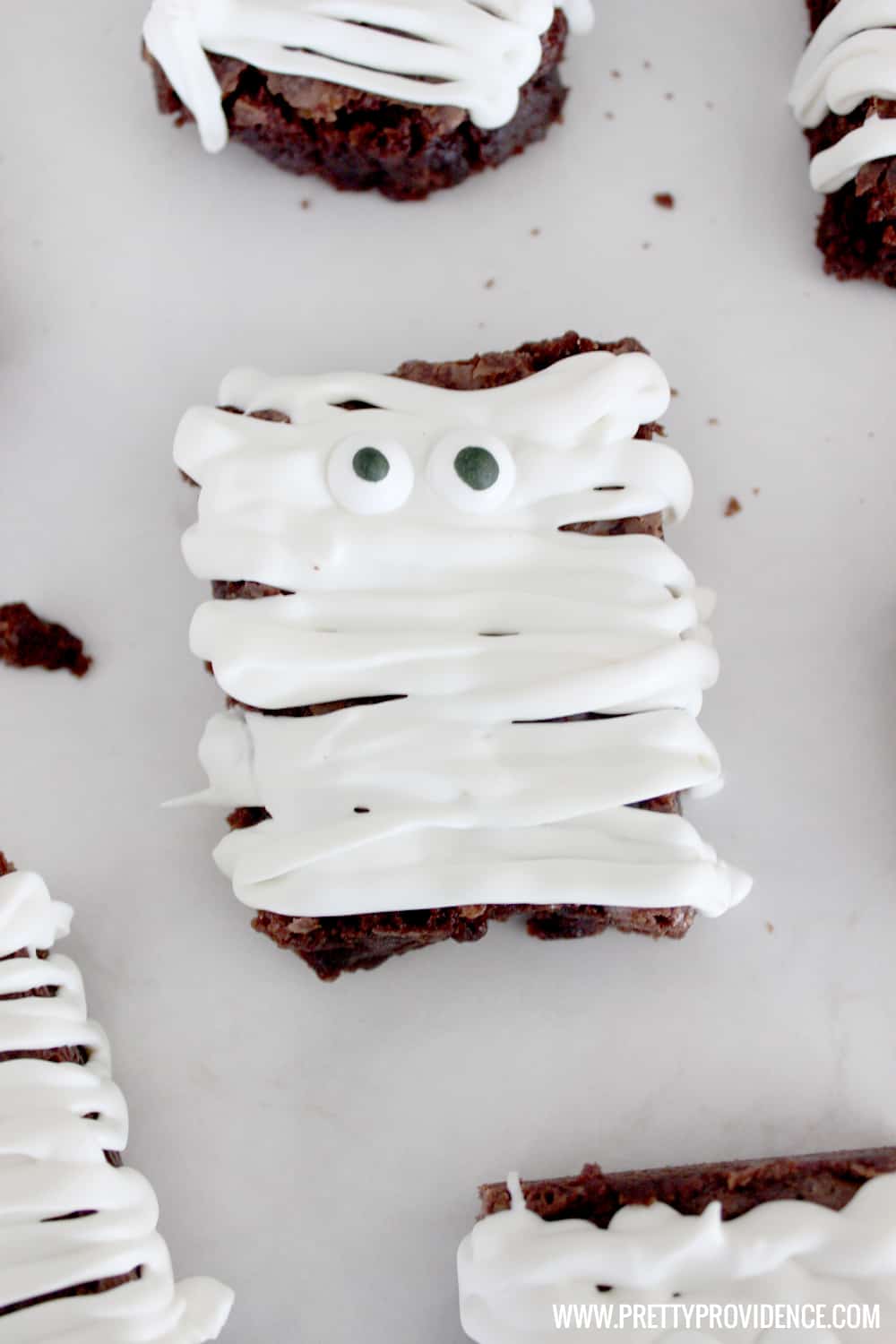 From Pretty Providence
GOOEY MONSTER COOKIES AND MONSTER SUCKERS
THESE ARE ADORABLE. Like Kristyn, my household is also a huge fan of everything Disney. These Monster U cookies are absolutely brilliant. I NEED to make these. I might actually go do that. BRB.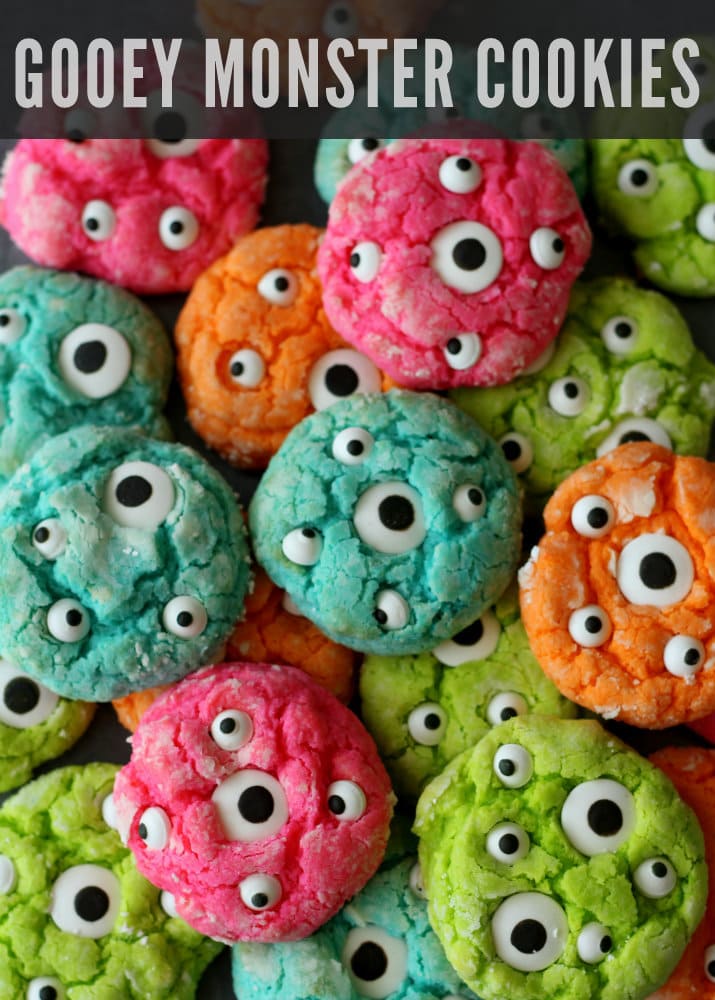 From Lil' Luna
GHOSTS IN THE GRAVEYARD HALLOWEEN DESSERT SHOOTERS
I've seen pudding shooters very similar to these but with gummy worms instead of tombstones and ghosts. This recipe from Sam has few more steps than the other one's I've shared so far but they seem totally worth it. Now this recipe is alcoholic free but I'm positive it wouldn't be hard to add a little Bailey's to the mix if you really wanted to.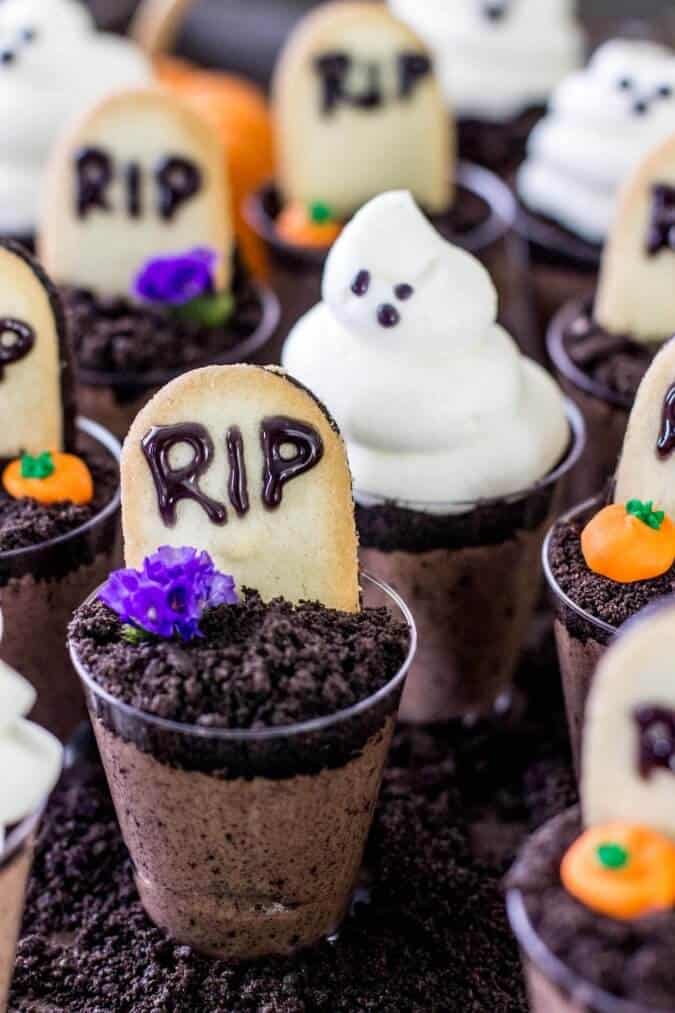 From Sugar Spun Run
HALLOWEEN HARVEST HASH CHEX MIX
Who doesn't love a good chex mix? I know I do. This chex mix recipe from Debbie has a cute twist for the upcoming holiday. Such a great way to mix things up.
From One Little Project
CAULDRON CUPS
These brownie cups are super easy and according to Alli addicting. I know they're definitely making my mouth water.
From Tornadough Alli
MONSTER MUNCH POPCORN SNACK MIX
I love this simple, throw together recipe. No baking included. Just throw the items together and voila! Tastiness.
From A Dish Of Daily Life
EASY PUMPKIN PRETZELS
This pumpkin pretzel recipe is straight and the point. It's super easy and about half healthy lol. This would be prefect if you are planning on feeding a bunch of people but don't have enough time to bake a large quantity of something.
Form Holidays Lifestyle
I hope you've found an awesome recipe to use for your upcoming Halloween party!